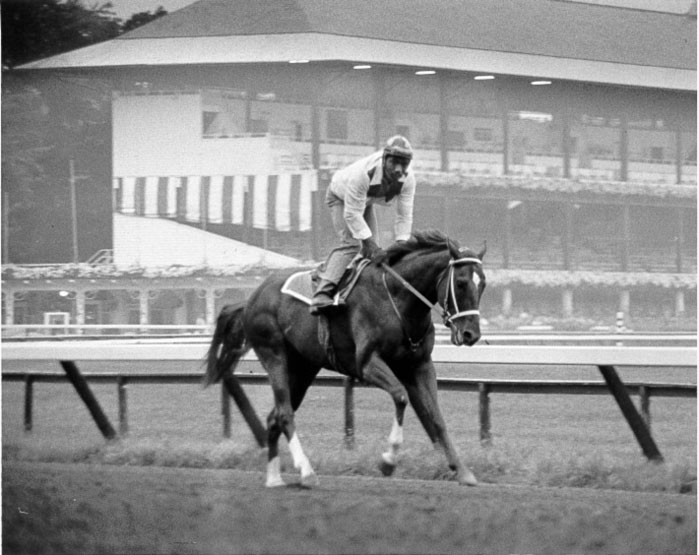 9/29/2010..I don't know about ya'll, but it's been a little bit of a bummer for me this summer.. The loss of a couple of racing legends out in California, terrible yearling prices here in Texas and increasing demands of my time out at work have been wearing on my enthusiasm. Just a slump I guess, that most of us go through from time to time, although this one was lasting a little longer than most.. But I received an email from a friend the other day though, that turned out to be the shot in the arm that I've been needing, a video clip of Secretariat..
..It brought back memories of a time that I had nearly lost and forgotten. If you turned on the TV back in the early 70's, it was probably black and white unless you were fortunate enough to have one in "living color". There wasn't around-the-clock entertainment either, just 3 channels to choose from, and those went off the air after the 10 o'clock news. Depressing stuff usually, updates on the Vietnam War, street riots and Watergate, or maybe a story or two about the Hippies.. Just a kid, I passed wide-eyed through the turbulent 60's and by the time 1973 arrived, I must have thought I'd just about seen it all.
..But then one day, there was S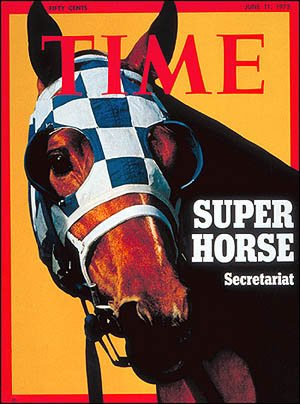 ecretariat.. The big red stallion with his magnificent long stride, and blue and white checkered blinkers, running past everything in his path.
The pageantry of the Kentucky Derby and "the run for the roses" was about the coolest thing I'd ever seen.
I was an instant fan, and I had plenty of company. Secretariat had become a sports phenomenon. By the time the Preakness rolled around two weeks later, his picture and his story were covered in newspapers and magazines all over the world. He started out in last place in that one, but ended up 2 ½ lengths out in front, sealing the win and setting the tone for the race that would make him a legend. The media frenzy was on, there hadn't been a Triple Crown winner in 25 years and with all the exposure to a rapidly expanding television audience, Secretariat and his fiery owner Penny Chenery had gained the celebrity status of movie stars.. Lights, cameras and an entourage followed their every move. Fueling the hype leading up to the Belmont Stakes..
..Where on June 9th, 1973 with viewers from around the world watching, "the big red machine" eclipsed all expectations and romped to a 31 length Belmont win in a world record time for 1 ½ miles. A record that hasn't yet, and may never be broken. The Triple Crown Winner's legend was now etched in stone.. It's been said that the physical size of Secretariat's heart, and the length of his stride were extraordinary. Not sure how you could have measured his will to win, but 31 lengths should just about cover it.
..The movie version of this Great American story is about to be released, not likely that it can match the exhilaration that those around Secretariat must have experienced. But if it comes close, it should be one heck of a ride.. Thanks for the clip, Cissy
stretch/440post